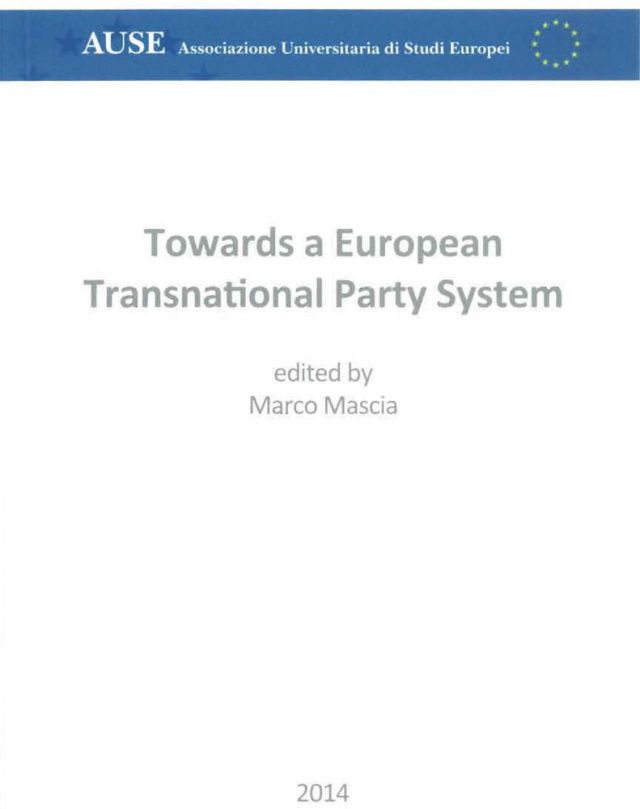 2014/11/27
Review: Towards a European Transational Party System
Towards a European Transational Party System
AA. VV. (edited by Marco Mascia)
Publisher: Associazione Universitaria di Studi Europei
City: Padova
Pages: 100
ISBN: 978-88-99051-006
The issue of a better defined and more substantial institutional and functional position for political parties in the European Union system is stili unresolved. This question is part of the broader, endemic problem of the Union's democratic deficit and political development.
The need for a genuinely systemic transnational European dimension of political parties is addressed by the authors in light of European party-building within the ongoing broader process of democratic institution-building of the EU.
The book includes a selection of contributions presented durìng the International Conference "Representative Democracy and Political Participation. Towards a European Transnational Party System" that took piace at the University of Padua in May 2014.
The full proceedings in Italian language have been publlshed by Cacucci Editore, Bari.
Index
Foreword
Marco Mascia, Towards a European Transnational Party System. An introduction
Francesca Longo, A party system without a party govemment in the European Union?
Massimo Piermattei, The Union's political parties: historical evolution and research
Daniele Pasquinucci, The European Parliament and the Uniform Electoral Procedure
Maria Romana Allegri, Transparency, supervision and responsibility in the funding of European political parties
Salvatore Aloisio, Italy's Centrai Directorate for Electoral Services takes a small step towards political parties' legal status at a European level contributing to the debate on the nature of the European Parliament
Giuliana Laschi, Election Time: Europe and Public Opinion in Historical Perspective (1979-2014)
Attachments & Resources
Marco Mascia, Towards a European Transnational Party System, 2014